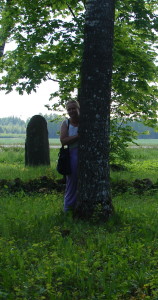 I was born in Accra, Ghana, into a German/Estonian family of global nomads. Our family lived in Spain, Portugal and Kenya, where I went to boarding school and did my Abitur. At age 17, I moved to Germany, graduated from University with a Master in Economics and started working. My work never truly satisfied me. I felt uprooted, unloved, and depressed. Ever since I can remember, I have had a keen interest in spirituality, healing and ethnology. I also have a deep bond with nature, music, poetry, and art. My work did not reflect my passion.
When my mother passed away suddenly, while she was leaving her body, I saw and felt a divine energy. It was a mystical experience. I began searching for people who had the same experience. I wanted to connect, to understand; I needed to heal. I found reports about Reiki and decided to have a treatment. After the first treatment, all scepticism fell away. During my treatment I felt the same divine energy I did when my mother passed. Reiki and I found each other and deep healing began. Unknowingly I had been looking for this all of my life – a direct connection to God, the "all-one", to source. I went from believing to knowing, from intellectualizing to palpably feeling the divine energy, Reiki. A deep healing process started on all levels of my being. I found home within every treatment and decided to study Reiki.
After first degree, I started practicing publicly and became a full-time Reiki-student and practitioner. I worked part time in business to support myself financially. I was initiated to mastery in 2012 by Krishna Kloers  and became a member of The Reiki Alliance in 2013.
Currently I live, teach, and practice Reiki in Estonia and work part-time as a high school language teacher. I am deeply grateful for the never-ending gifts Reiki gives me and feel honoured to pass on the gift of Reiki to all those who wish to experience this divine energy in treatment and classes.