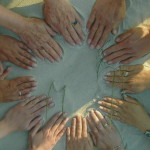 Actively engage in Reiki Home and a "New World Order". Reiki Home is a movement that anyone can join, Reiki-Student or not. It is a calling that many of us feel and that the Reiki Foundation International (RFI) seeks to materialise. This call was received by the Reiki-community at the OGM-Retreats (OGM= Office of the Grandmaster in the years 2008-2010.
A lot has happened since the RFI, a US-based Non-Profit Organisation offered itself to be the vessel or container for the realisation of this dream.

In collaboration with Regenesis, a group from the US that has specialised on regenerative thinking and action, the RFI is working in Reiki-ways on gifting our planet, our communities, all living things and ourselves peace, healing, love, joy, a still-point- in short a Home. It is the RFI's dream to one day have a physical center, a place that will serve as a role-model for what we call Reiki Home.

Currently the Organisation offers the global community the possibility to meet virtually and also to participate at events and seminars. There also is the opportunity to serve within the organisation as a volunteer. An excerpt of the projects that are currently being worked at are: archives, ac
ademy, communication, physical place, translation, education in regenerative methods, sacred space…and and and…your wishes and ideas are welcome.
I donate part of my income to this organisation. Since 2011 I am active on many teams and since 2014/15 I am honorary member of the board of directors and corporate secretary of the RFI. You will find more information under www.reikihome.org