Reiki-2-Intensive in Estonia: 
Reiki for your personal growth- Modul 1,
08. – 13. August 2020
This new intensive is for all, who wish to refresh and deepen their practice of second degree and for Reiki Masters who want to include new aspects into their teaching. Regardless of the Reiki Form you are trained in.
Uncovering our true selves – where do we confine ourselves by old belief patterns, what are the conditionings that control us … We will illuminate our own field and enter purposefully into a group development space. Towards more serenity, we will provide you with tools that will make your everyday life easier and freer. Daily Reiki treatments are an integral part of the seminar.
Carried and held by the energy of the group, the flow of Reiki leads us to spirituality and healing.
The coming to peace within is harmoniously supported by the unique and untouched nature of Estonia. We are accommodated in the guesthouse Altmõisa. Very good organic food, lovingly furnished rooms and a wonderful seminar room await you.
You are accompanied by Krishna Judith Kloers, Reikimaster since 1987 & Bodytherapist (www.reiki-freiburg.de) and Reikimaster Astrid Milvi Bagwitz (www.milvi-reiki.com).
Get in touch to find out more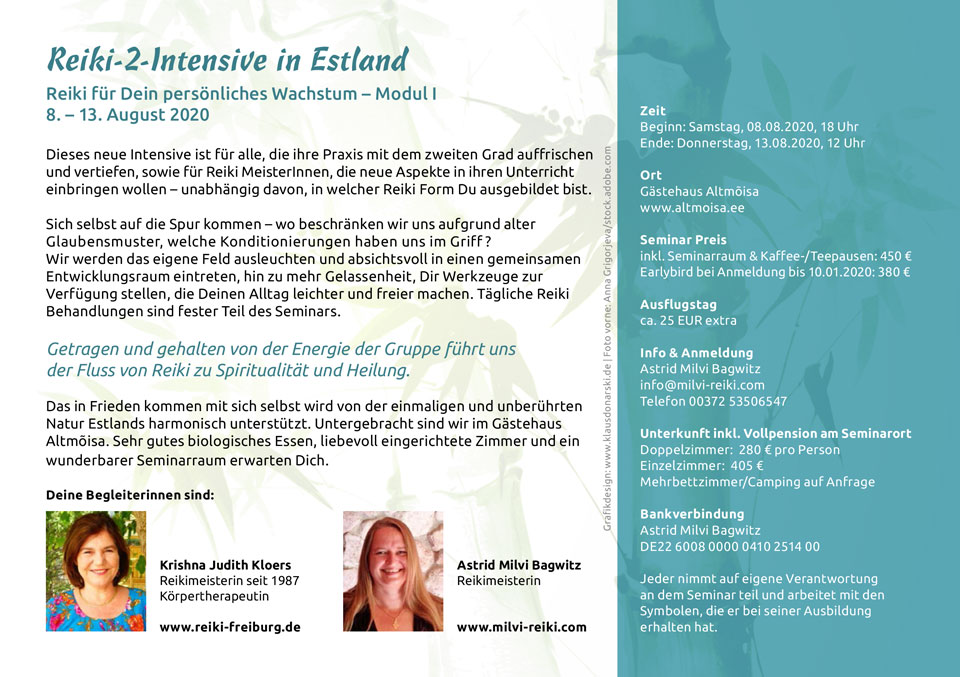 Apart fro
m Retreats, Events and Voyages that I organize myself here in Estonia, I am happy to give you information on global participation-opportunities.
A retreat or event in the context of Reiki is always also worth the journey: relaxation, active learning from and with each other, working on yourself, experience healing, participating within a global community, feeling held and nourished, getting to know like-minded people and and and …